Beam On Technology Corporation was established in October 1992, founded by manufacturing engineers with extensive knowledge and expertise in the assembly process. Our founding mission was to provide integrated service products to the SMT assembly industry engineered for ease of use that both increase yields and reduce defects. This continues to be our goal.
Since the introduction of our first revolutionary product "Band Etch Technology™ for Stencils", we are constantly introducing new products that respond to changes in technology. By working closely with our customers in product development, we can go the "extra mile" to meet their needs.
Our Family of Service Products include:
Solder Paste Stencils…Our proprietary Band Etch Technology™ and laser cut stencils
Multi Step stencils
Our "PrintPart System" which is used to print directly on component contacts
Rework mini stencils
Inspection Template Overlay
SPin Plate (Support Pin Locator Plate)
Surface Mount Transport Plates
Selective and Non-Selective Wave Solder Pallets
Press Fit Fixtures
Printed Circuit Board Stiffeners
Metal Squeegee Blades and Blade Assemblies
Ball Grid Array (BGA) re-ball fixtures
Box Build Assembly Aids
Photo Plotting
All of our fixtures and other assembly aids are directly designed from Gerber data assuring accuracy that meets or exceeds all tolerances required for your specific SMT assembly process.
Beam On Technology boasts not one but two of the best Stencil Laser systems from LPKF. With their high Aperture cutting speed combined with state of the art fiber optic cutting technology no other stencil Vendor can service you like we can. Everything we make is designed "beyond the door", meaning our products perform better since they are created for use and not just a commodity for us to sell to people. We take pride in what we do so any problems our customers have affect us personally.
We are a responsible company and treat our customers with respect and confidentiality. All data sent to us resides on our own in house servers.
Our ITAR certification gives you piece of mind that data received by us will be kept confidential and secure. We primarily accept Gerber data, but can work with most types of files including AutoCAD and ODB++.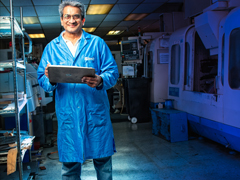 Mission Statement
"It is our business to provide our customer with cost-effective products, without compromising our commitment to quality. We consider our customer our primary concern We strive for reliable, on-time delivery. We dedicate ourselves to perpetual technical innovations and product improvements."